Book Giveaway!
Sports Illustrated Kids and Time Inc. Books have put together a series for rookies.
For a chance to win be sure to share, follow and leave a comment.
U.S. Only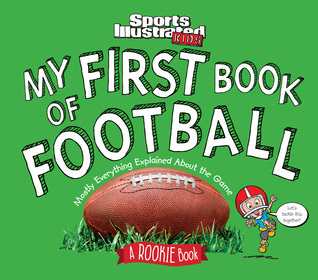 Title: My First Book of Football
Author: Time Inc. Books & Sports Illustrated Kids
Illustrations: Sports Illustrated
Publisher:
Time Inc. Books & Sports Illustrated Kids
Do you know how the game of football is played? If not, you will find answers to the questions, calls and plays you might ponder regarding the action packed game of football. Rookies will find easy to read sentences, awesome illustrations and pro-sport action photography and loads of fun.
This guide for rookies helps readers learn the basics of the game. Explanations for Hand Off's, Blocking, Punts and Fumbles are demonstrated with action photography of players along with fun cartoonish lettering for readers to enjoy as they learn. If you didn't know, the Quarterback is the one player, besides the Coach, who calls all of the shots on the field when his team has the ball. There is also an animated rookie ball player who adds his comments throughout the pages. Halftime is one of the great parts of the game because players take a break and fans get to snack, stretch their legs or whatever else needs taken care of. Readers will see the Four Quarters including a timed countdown which is shown on the top corner of the appropriate page. In the back of the book readers will find other resources for more exploration and learning.
Courtesy of Media Masters Publicity