Book Giveaway!
Does your toddler know up and down? Do you need a fun book for a beginner reader? Now is your chance to see how busy Annalise's can be.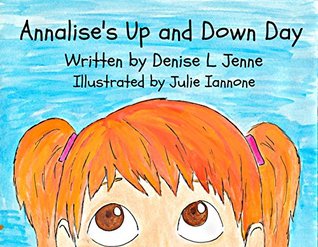 For a chance to win please be sure to share and follow. Don't forget to leave a comment.
Offer expires 5/12/16
Title: Annalise's Up and Down Day
Illustrations: Julie Iannone
Publisher:
Gill Publishing
Some things are up and some things are down in Annalise's world. In the morning when she wakes up the sun comes up and the moon goes down. This is when Annalise starts her busy day. Eating breakfast and getting dressed she discovers up and down. Playing with a ball, a guitar and singing a song, things go up and down. Annalise sees strawberries on the ground and apples up in a tree. When she goes to the park with her mom Annalise's hand goes up while her mom's hand stays down. After a busy day of play the moon comes up and her eyelids go down.
Author Denise L. Jenne has created a quick and easy read for beginners. Colorful illustrations filled with recognizable objects is also a fun bedtime story for toddlers too. Young readers will easily learn about up and down. Parents, teachers and caregivers will love this easy to handle concept book.