Book Giveaway!
If you are dog lover then you will want to read these incredible stories of
dogs being true heroes!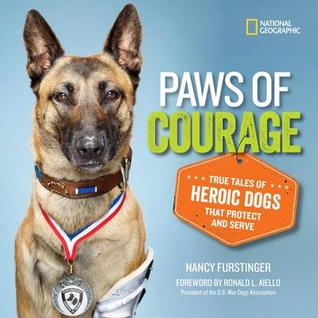 The only way for a chance to win this amazing National Geographic book is if you have signed up to receive the
Kristi's Book Nook Newsletter.
Every month I do a special giveaway just for my newsletter subscribers. Are you a subscriber?
Sign up today
.
Publisher:
Nancy Furstinger
When someone tells you that a dog is man's best friend, they are absolutely telling the truth. National Geographic and Nancy Furstinger have put together photos and stories of very heroic dogs.
Opening pages introduces readers to Sergeant Stubby, a World War I hero that captured a German spy. Stubby was a Pit Bull Terrier mix. Judy, an English Painter was the first registered POW during World War II. Azza, a Belgian Malinois, was trained to sniff out explosives and warned his handler when one was near.
Dogs during World War I wore homemade gas masks and other gear. Today's canine wear dog body armor costing up to $30,000. These doggie vests can transmit top-secret information. These doggies go on missions with U.S. Navy Seals and other elite forces.
If a dog shows focus, aggressiveness and an excellent sense of smell, he/she could become a military dog. Readers will find these stories heartwarming and enlightening. Parents and children can read together and learn so much about these very special animals who put their lives on the line for us. Fun facts and stunning photography will engage readers for years to come. Paws of Courage is bound to leave kids feeling warm and fuzzy.
Courtesy of Media Masters Publicity