Book Giveaway!
For a chance to win all you have to do is follow, tweet
and leave a comment with your name and email.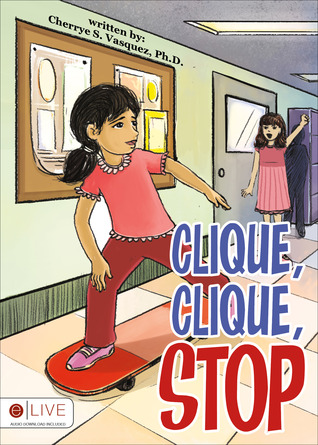 Title: Clique, Clique, Stop
Author: Cherrye S. Vasquez, Ph.D.
Illustrations: Rhezette Fiel and May Jean Archival
Publisher:
Tate Publishing & Enterprises, LLC
ISBN: 9781625103017
Review:
Isabella Santiago has moved to a new place called Fernandez Harbor Neighborhood. It's a long ways from her old neighborhood and her friend Sally. Her first encounter with a girl her age, Victoria Morales, in this new place was not what Isabella considered to be a friendly experience. The girl, Victoria, referred to Isabella as a half breed. You see, Isabella is bi-racial. She is half Mexican and half Caucasian.
At school, Isabella tried everything to fit in. She did make a few new friends, but most kids weren't friendly and simply stared at her or giggled when she walked past them. Some made fun of her because she didn't speak Spanish like they did. In order to fix the problem, Isabella decided to start a Multicultural Club. With the help of Mrs. Rios, the guidance counselor, a buzz formed around the school. This might just work. It will be up to Isabella to bring about a better understanding of the various cultures at her school.
Parents and teachers along with young readers, can take this story as an opportunity to open up dialogue and discuss the various cultures that can be found in schools and neighborhoods. This middle grade read can be enjoyed by boys and girls alike. Although the sentence structure may be complex, the chapters are quick and easy to navigate. Simple illustrations help readers better understand what is happening within the story.