Wisdom Tales books share messages children can learn and utilize throughout their lives.
For a chance to win this wonderful book all you have to do is follow, share and leave a comment with your name and email. Offer expires 9/12/14.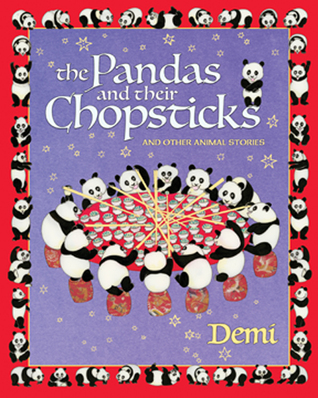 Title: The Pandas and their Chopsticks
Author: Demi
Illustrations: Demi
Publisher:
Wisdom Tales
ISBN: 9781937786168
Review:
What child and parent doesn't love a good old fashioned folk tale? Readers will love these cute Asian fables brought back to life with their extraordinary illustrations, that are colorful, detailed works of art. Young readers will enjoy a variety of tales that teach. The stories are seemingly simplistic but deliver a powerful message. Below is a sample of what readers may find throughout these pages.
A River Discovers The Ocean
Once upon a time, there was a big river. The river was so wide that buffaloes on one bank couldn't see horses on the other. The big river was proud. He thought that he was as great as great could be. Imagine his surprise when he finally came to the ocean. It was so much bigger than himself!
The river said to the ocean, "If I hadn't seen your size with my own eyes, I wouldn't have believed it. I thought I was as great as great could be!"
The ocean replied, "Nothing on earth is as great as me. Thousands of rivers flow into me, yet I am never full. But I know I am still just one part of the earth. And I am still only a speck of dust compared to the greatness of Heaven!"
Be humble. It is the starting point of all greatness.
Wisdom Tales has always provided exceptional books that teach young readers values and history. The display of tales combined with the exceptional artwork will be a treasure for any home library. Parents, teachers and children will enjoy these books for a lifetime.