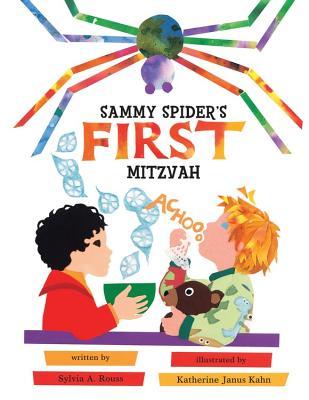 Title: Sammy Spider's First Mitzvah
Author: Sylvia A. Rouss
Illustrations: Katherine Janus Kahn
Publisher:
Kar-Ben Publishing
ISBN: 9781467719483
Review:
Sammy Spider always has lots of questions, especially when it concerns his good friend Josh. Sammy has learned that Josh has caught a cold. Sammy wondered if he could catch a cold too.
"
Silly little Sammy, spiders don't catch a cold, spiders catch flies," said Mrs. Spider.
Sammy asked if he needed to take medicine too, but of course Mrs. Spider thought that was a silly question too. Sammy learned that every time Josh sneezed you should say Labruit. This means to your health. Sammy wants to do something nice for Josh to help him feel better. This is called a Mitzvah. What do you think Sammy could do?
Author Sylvia Rouss has created another fun story for children featuring Sammy the Spider. Colorful illustrations will keep young readers turning the pages as they learn about Mitzvah and the Jewish culture. Parents and teachers can use this simple story to share with young readers to open up dialogue about traditions.