Book Giveaway!
Parents may need a tool to help kids with their manners.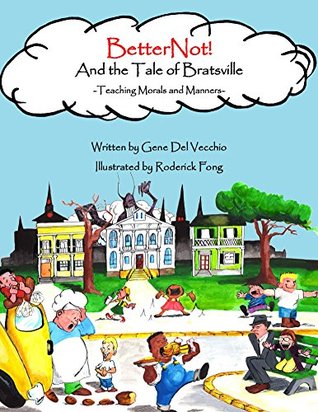 For a chance to win all you have to do is follow, share and leave a comment.
Offer expires 09/27/15
Title: BetterNot! And the Tale of Bratsville
Illustrations: Roderick Fong
Publisher:
BetterNot Enterprises, LLC
When children are naughty that's never good. In the little town known as Bratsville the children are especially naughty. It is a problem that has gone on for a very long time. Some children picked their noses, some slurped, and others told lies. Some kids even ate too much junk food. Parents were so busy pleading and warning the children of what they better not do that their words were heard by a creepy purple creature from the swamp. This creature known as BetterNot showed these children what happens when you hit, call a person names or steal things that don't belong to them. Rest assured none of these children were happy with the consequences of their actions. Believe it or not, BetterNot taught his lessons out of love for the children.
Author Gene Del Vecchio was looking for a way to teach morals. He wanted to add humor and he was successful. Parents and teachers can use this tool to teach manners and to help children understand why they should listen and be kind to one another. Colorful illustrations represent the naughty children quite well. Easy to read sentences with fun whispy rhyme make the story fun and meaningful.
About the author:
Gene Del Vecchio's first young adult novel, the Pearl of Anton, was honored with a star review from Booklist. The sequel, The Sword of Anton, made the Young Adults' Choices list from the International Reading Association. In his longtime role as an entertainment consultant he's worked with various studios including Disney. He also has four business books to his credit and he teaches at USC.