I just want to say Thanks and so do a lot of other bloggers. To show our appreciation for all of your support we are giving away books and prizes. Be sure to stop by all of the other blogs for more goodies!
For a chance to win here just be sure to follow, share and leave a comment with your
name and email.
Offer expires 11/30/15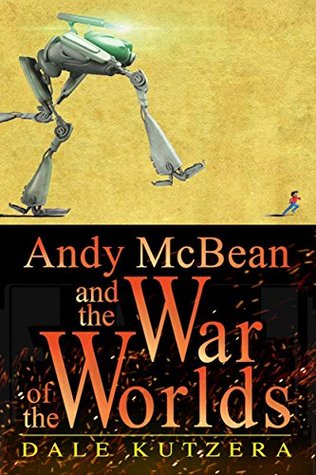 Title: Andy McBean and the War of the Worlds
Illustrations: Joemel Requeza and Dale Kutzera
Publisher:
Salmon Bay Books
Andy McBean is a boy who had survived the worst thing ever, cancer. Most of his senses returned to normal with the exception of his hearing. For the most part he is just your average kid with friends, he plays the clarinet and he has to deal with bullies too. But none of that so called normalcy, is anything compared to the aliens that crash landed right in his front yard. Andy was separated from his family and friends. Many of the towns' people were captured and put into cages in giant robot aliens. Many homes and businesses had been trampled and there were no adults to help guide Andy on what to do. His main objective would be to stay hidden and try to reconnect with his family. While hiding, Andy meets a girl named Charlie. Together they survive rain, cold, bullies and even a few aliens. Unfortunately, Charlie gets taken during a chase. Andy decides to stand his ground, he is going against the aliens to save his family and Charlie too. Andy had confiscated an alien weapon, one that will open the cages to free the town. Is it possible that he could become a hero? Is it possible he could have help from a sympathetic alien?
From a world that is dying there is Been Tok. He is a worker alien who wanted to study the life living on the blue planet. But only the Masters could be curious. His planet was dry and they needed water to continue to survive. Been Tok knew that mining water from planets with advanced life was against the rules. He wanted to make sure his alien kind weren't going to cause any harm. He referred to humans as bipeds and discovered that one of them is a warrior. Been Tok had come close to capturing the little warrior but chose to let him go free. There is a growing feeling inside of him that he can't explain. Perhaps it's sympathy or defiance against the masters for breaking the rules.
Author Dale Kutzera has created a great read geared for boys but girls will love the alien elements too. This fast paced read puts emphasis on all five senses. There is adventure, friendship and a little mystery. Readers will enjoy the main character's journey towards bravery and finding a hero inside. Teachers would love this as a read-a-loud. Students would be able to discuss and compare what they would do if aliens landed in their yard. This is a great book for a boy who wouldn't like to pick up a book.