Follow along with all of the bloggers who have great giveaways just for you!
For a chance to win Serafina and the Black Cloak please be sure to follow, share and leave a comment with your name and email.
Offer expires 1/14/16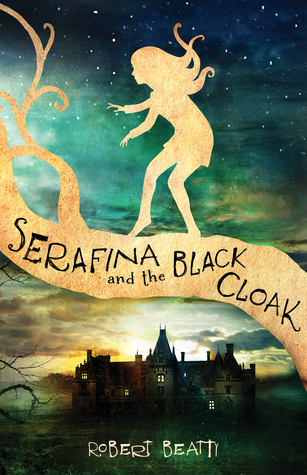 Serafina and the Black Cloak
BIBLIO: 2015, Disney Hyperion, Ages 9 to 12, $16.99.
If you are looking for a fast paced read with chills and thrills at every turn of the page, then you will love this exciting read. Serafina was the Chief Rat Catcher of the Biltmore Estates, at least that's what her Pa called her. She was so stealth and steady when she would catch them, it felt like that was what she was meant to do. She figured that being the CRC was her contribution as service for room and board since her and her Pa were living in the basement without the knowledge of the owners, the Vanderbilts. Her Pa did work on the machines that kept the electricity running but no one knew of Serafina.
One night Serafina heard strange footsteps and the voice of a young girl in distress. She was being taken by a man in a black cloak. In order to save herself Serafina hid. She was good at finding a little nook or cranny and keeping herself still and quiet. She knew her way around the big house and especially the basement. She watched helplessly as the black cloak twisted and turned and the girl screeched and moaned and soon disappeared. Where had she gone? A fowl stench came from the man. Had he eaten her, made her disappear or something magical and much worse happened to the little girl? On her own, Serafina begins to investigate who this man is, especially since she overheard guests and servants discussing other children that were missing too. An encounter with Braeden Vanderbilt, a nephew of the owners, gives her a new friend and some very serious help. Will Serafina, Braeden and his loyal dog Gidean solve the most horrific mystery ever to bestow the great Biltmore Estates or will they all fall victim to the man in the black cloak?
Author Robert Beatty has created a page turning thrill that may keep readers up at night. The characters are interesting and brave. The story is fast paced and the author added great detail with the descriptive scenery. The story engages readers with all five senses. The twists and turns add extra suspense along with a surprise ending. Parents and teachers can use this tool as a read-a-loud which will be loads of fun for kids.