Bookhounds is hosting another great blog hop. Follow along for a chance to win awesomness!
For a chance to win This Is Where It Ends be sure to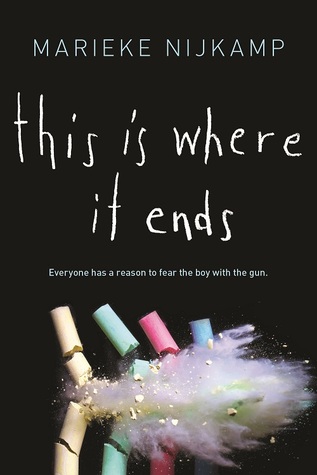 BIBLIO: 2016, Sourcebooks Inc., Ages 12 to 18, $17.99.
Welcome to Opportunity High School. Meet Claire, a senior and member of the track team. Tomas is in the principal's office looking for a file. Autumn's family is falling apart since the death of her mother. Her father drinks and hits and all she wants to do is escape. Sylv has a crush on Autumn but it's her secret. The principal has finally finished her speech welcoming students and promising hope. And then it happens the quiet hallways crack with the sound of gunshots.
In just 54 minutes these four students along with everyone else will go through a life changing experience. A fellow student, who is obviously broken, brings a gun to school and aims to shoot those he felt had wronged him. The four lives reveal to us how this experience affects them in this short period of time and provides insight on their back stories.
Marieke Nijkamp invites readers into the tragic world of the what happens when shots are fired in a school setting. The sting of a mad man jumps from the pages and readers are either mad, sad or both. Young readers must decide on their own how they would survive such an event. This is a subject that should be shared with teachers, parents and students.