A Cybils Awards Nominee!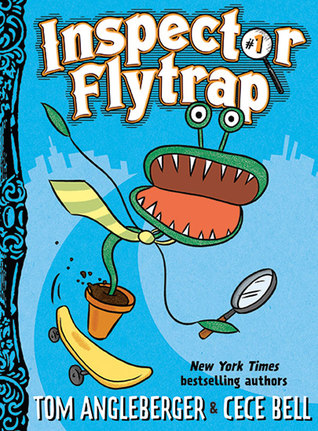 A Venus flytrap is a pretty scary looking plant. Inspector Flytrap is not scary at all. As a matter of fact, he is an investigator who only solves big deal mysteries. He gets around in his flower pot on a skateboard with the help of his friend Nina the goat. Some of his mysteries involve solving yellow blobs on expensive art that turned out to be the artist's boogers. Another case was solving the mystery of stinky cookies and stinky feet. When it's all said and done Inspector Flytrap always managed to come out smelling like a rose.
This early chapter book is more for an advanced beginner reader. Longer chapters with snappy dialogue are fun and engaging. Hilarious illustrations in green and black can be found throughout the pages to give readers insight into the mysteries. Clues can also be found so readers can help solve the puzzles. This is a great book for boys but girls will love it too.