It's a book giveaway!
A Tale from the Brothers Grimm retold and illustrated by Kim Jacobs.
For a chance to win be sure to share and leave your name and email.
Offer expires 6/10/17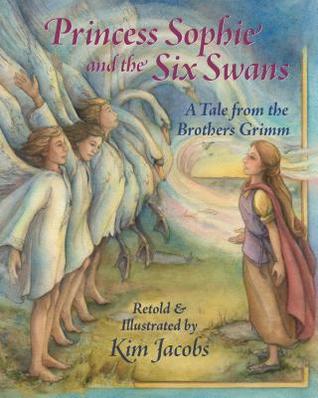 Title: Princess Sophie and the Six Swans
Illustrations: Kim Jacobs
Publisher:
Wisdom Tales Press
Sophie was a young princess who had six brothers. After her mother died her father remarried. This new step mother was not very nice and cast a spell that turned the six brothers into swans. The only way they could be released from the spell is if Sophie never spoke and she had to make six shirts out of thorny thistle. Sophie went to away, built a small hut and spun and spent her time weaving the shirts. After many years, she was discovered by a prince who soon fell in love with her even though she never spoke. Will princess Sophie ever finish the shirts and save her brothers?
Author and illustrator Kim Jacobs has brought this thoughtful tale from the Brothers Grimm to life. Soft flowing hues of brown, green and red fill the pages and make the story and its character's spring from the pages. Easy to read sentences make this a great story for any beginner reader. The authors note in the back of the book enlightens readers to the history of this tale which was told long before the Brothers Grimm ever wrote it down. Parents and teachers can educate kids on how stories were handed down over the years.